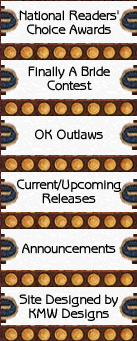 Problems with this site? Contact the Webmistress.
Copyright 1998-2006, Oklahoma Romance Writers of America

Members Only News & Info
OKRWA Bulletin Board
2005 OKRWA Events
May -- Oklahoma Book Festival -- Annual event we're turning into a mini-conference...special guest, Susan Grimshaw, National Waldenbooks buyer
July
-- RWA National Conference -- Reno, NV
September
-- Annual Retreat -- special guest, Linda Howard
December
-- Christmas Party at Donnell's
Member Services
OKRWA ThinkTank
Pay your dues through PayPal!
Fun Stuff


This site is a member of WebRing. To browse visit here.