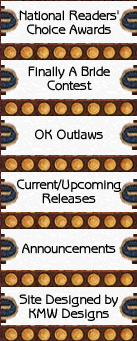 Problems with this site?
Contact the
Webmistress.
Copyright 1998-2006,
Oklahoma Romance
Writers of America

OKRWA's December Program
As usual, our December program is a Christmas party at a member's home. This year, Rinda Elliott has volunteered to host. Please check the online Yahoo groups file folder for directions to Rinda's home.

Welcome to our new board members for the 2006 year:

President: Deb Behrens
President Elect: Beth Daigre
Program Director: Cindy Marolt
Treasurer Merline Lovelace
Secretary Jodi O'Shea-Walker

December Releases
January 2006 Releases


This site is a member of WebRing. To browse visit here.
Site updated 1 December 2005